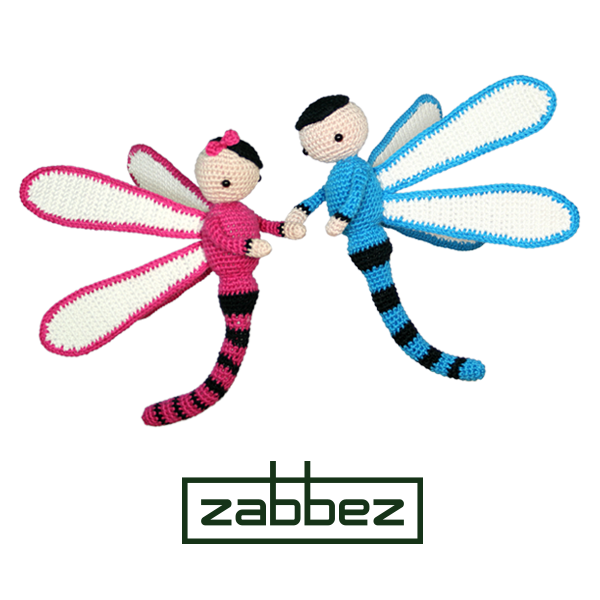 Dragonflies Dave and Lisa are two playful dragonflies. They are always seen flying together. Often they chase each other with high speed. Dave and Lisa are a true match. They fly from flower to flower and sometimes over the forest pond where they make ripples in the water with their tails. Dragonfly Dave loves to make salto's in the air and Lisa loves to flap her wings together. From the air they enjoy the flowers beneath them and Lisa often hides behind one of them so Dave has to look for her. Flying in the air with the wind beneath their wings, they are happy.
The pattern is available here: Dragonflies Dave and Lisa.
I am very proud the pattern for the Dragonflies Dave and Lisa is now online. It is a lot of work making, testing and translating patterns and I am grateful for all the help I have gotten from very kind people. A special thanks goes to translators Doris, Julia, Emilie and Delphine. They worked very hard to translate the pattern. Without them it would not have been possible.
And it is not only translating that has to be done. After translations, it has to be checked, double checked and tested. The entire pattern has been test crocheted in every language. Thank you Natalie, Marjan, Michelle, Sandra, Nanette, Anais, Beatrice, Marcia, Estrella and Marta.
And thank you to everybody who put in an effort. Your support means a lot!