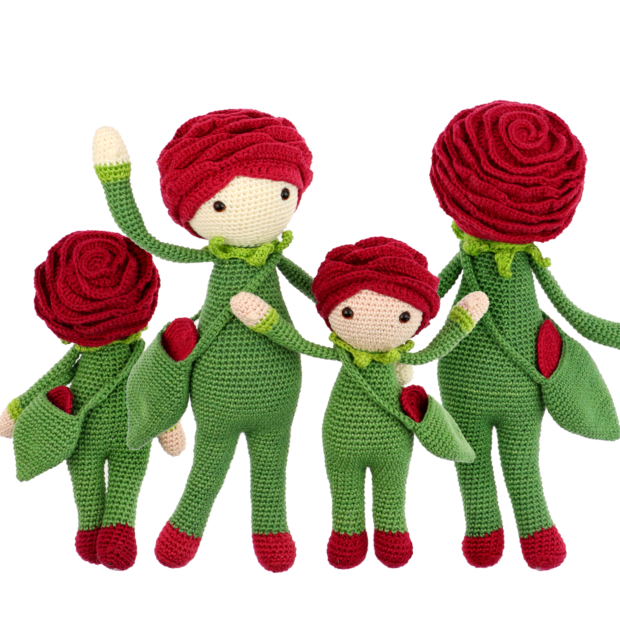 We all know the large HAPPY Rose Roxy and now LITTLE Rose Roxy is here to join here mama! Little Rose Roxy is a romantic lady. It is her dream to go with mama to all the parties in the world and sprinkle her rose petals everywhere. Little Roxy collects her own petals and keeps them in her bag for later use. She often just throws her rose petals in the air and fantasizes about making everyone happy.
Crochet pattern is available here: Little Rose Roxy.
I am very proud the pattern for the LITTLE Rose Roxy amigurumi flower doll is now online. It is a lot of work making, testing and translating patterns and I am grateful for all the help I have gotten from very kind people. A special thanks goes to translators Doris, Julia Sierra, Corinna Capecchi, Stephanie B Berthelot, Mercédesz Müller, Marta Jastrzębska, Helle Grandt and Lyubov Shunina. They worked very hard to translate the pattern. Without them it would not have been possible.
And it is not only translating that has to be done. After translations, it has to be checked, double checked and tested. The entire pattern has been test crocheted in every language. Thank you Glorianne Gazareth, Mélanie Cador, Stéphanie Rudy, Sandrine Manceau, Iwona Janiak, Izabella Wichary, Malgorzata Palczewska, Anita Luiza Oleszczuk, Renata Oszlánczi, Erzsébet Csorba, Ágnes Miráné Ferencz, Barbara Kovacs, Bettina Vang, Laila B Thomsen, Anastasia Pimanova, Lyubov Maier, Veronika Pominova, Yuliia Sauer, Ksenia, Sandra Dahms, Steffi Heyber, Kristel Gidding, Gaby Hänggi, Fabia Crepaldi, Marta Aldrighetti, Noriana Marangon, Claudia Gabriela Avila Ortiz, Estrella Ruiz Mtnez, Marcia Cantu and Marta Ojea.
And thank you to everybody who put in an effort. Your support means a lot!