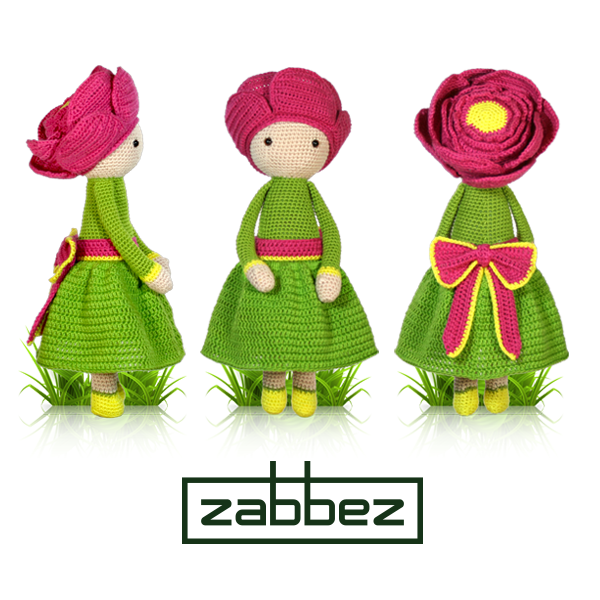 Peony Pam has a beautiful and abundant peony flower. She is a true princess and loves to imagine she lives in a flower fantasy world. Pam dreams about strong and colorful flowers that love her and compete for her hand. Pam is often seen frolicking and dancing over the rolling hills humming the most romantic songs. When she dances over the hills, her dress and bow are gently fluttering in the wind behind her. It is like a classic storytelling dream come true. She always has a happy glow and a charming appearance.
The pattern is available here: Peony Pam.
I am very proud the pattern for the Peony Pam amigurumi flower doll is now online. It is a lot of work making, testing and translating patterns and I am grateful for all the help I have gotten from very kind people. A special thanks goes to translators Doris, Julia Sierra, Marianne, Corinna Capecchi, Emilie and Delphine. They worked very hard to translate the pattern. Without them it would not have been possible.
And it is not only translating that has to be done. After translations, it has to be checked, double checked and tested. The entire pattern has been test crocheted in every language. Thank you Natalie van Dalen, Marjan Groen-Klaver, Jennefer Richardson, Sandra, Claudia B, Nanette, Sandrine Manceau, Anais, Beatrice Mauhourat, Mélanie Cador, Claudia G, Marcia, Estrella Ruiz Mtnez, Marta O, Marta Aldrighetti, Noriana Marangon, Selene Lit Caldieri, Bettina Vang, Helle Grandt, Connie Demant Nilsson, Pia Thomsen and Tanja Salmon.
And thank you to everybody who put in an effort. Your support means a lot!