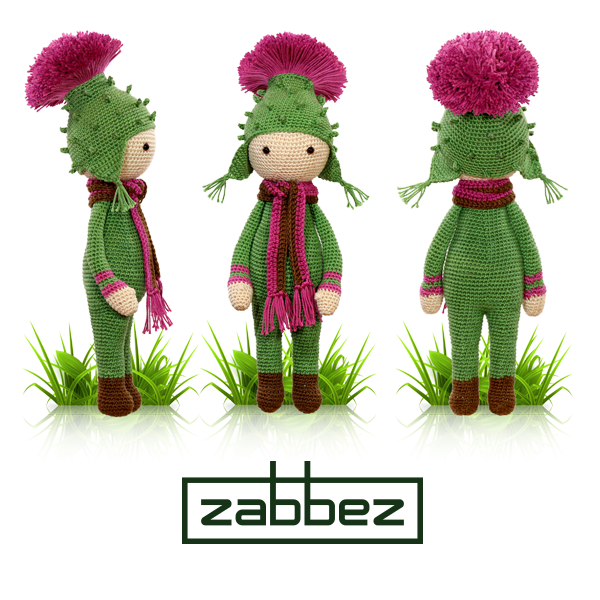 Thistle Tim is a sweet and playful thistle flower. Tim might have scary looking thistles, but he never stung anybody. He is really friendly and just loves to make new friends. When the weather gets colder, Tim puts on his thick scarf to keep him nice and warm and he goes out to play with his friends. They run around in the snow and have a lot of fun. Thistle Tim loves sledding, that always puts a smile on his face. When he goes really fast, he can feel the wind between his thistles. He wishes he could invite everybody to go sledding with him and be his friend.
Crochet pattern is available here: Thistle Tim.
I am very proud the pattern for the Thistle Tim amigurumi flower doll is now online. It is a lot of work making, testing and translating patterns and I am grateful for all the help I have gotten from very kind people. A special thanks goes to translators Doris, Julia Sierra, Marianne Topping, Corinna Capecchi, Emilie leHandmade, Delphine Darthial, Mercédesz Müller and Marta Jastrzębska. They worked very hard to translate the pattern. Without them it would not have been possible.
And it is not only translating that has to be done. After translations, it has to be checked, double checked and tested. The entire pattern has been test crocheted in every language. Thank you Natalie van Dalen, Marjan Groen-Klaver, Jennefer Richardson, Michelle Bohlmeier, Sandra Dahms, Claudia Bock, Nanette Sobiech, Sandrine Manceau, Beatrice Mauhourat, Mélanie Cador, Cecile Giraud, Marcia Cantu, Estrella Ruiz Mtnez, Marta Ojea, Marta Aldrighetti, Noriana Marangon, Selene Lit Caldieri, Fabia Crepaldi, Bettina Vang, Pia Thomsen, Renata Oszlánczi, Daniella Perge, Barbara Lóczi, Laura Olah, Gosia Paluch, Iwona Janiak and Ewa Zagawa.
And thank you to everybody who put in an effort. Your support means a lot!