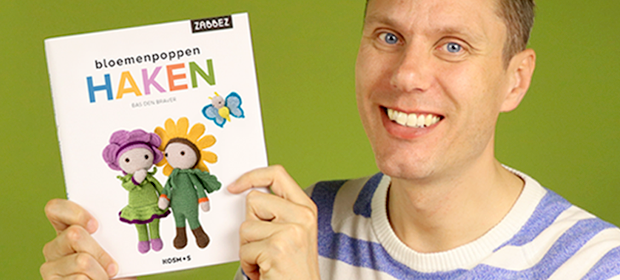 My crochet book will at first only be available in Dutch. Do you want it to become available in your language too? Continue reading at the bottom of this article.
Met heel veel plezier presenteer ik jullie mijn eerste boek BLOEMENPOPPEN HAKEN!
Verschijningsdatum: juli 2018.
Speciaal voor dit boek heb ik een aantal van mijn populaire patronen in een kleinere versie uitgevoerd en zijn er een aantal nog niet eerder verschenen bloemenpoppen toegevoegd. Het boek bevat 15 nieuwe kleine patronen, zoals kleine zonnebloem Sam en anemoon Annie, aangevuld met enkele extra patronen, zoals een vlinder en bij, om de bloementuin compleet te maken. Een serie vrolijke en kleurrijke bloemenvriendjes die zeker een glimlach op je gezicht zullen toveren.
De overzichtelijke en duidelijke patronen zijn geschikt voor hakers van alle niveau's, met uitgebreide haakuitleg en heel veel vrolijke foto's.
Haak ze allemaal!
BESTELLEN
Je kunt het boek online bij de Nederlandse boekhandels bestellen en via de websites van de bekende wolwinkels en haakwebsites bijvoorbeeld bij:
Bol.com
Boekenwereld
Wolplein.nl
HELP THE BOOK GO INTERNATIONAL
The world of book publishing is very different from how I normally share my patterns with all of you. For this book I teamed up with a Dutch publisher and therefore this book is currently only available in Dutch language. They will do their best to get foreign publishers interested to share the book with all of you abroad too. You can help convince foreign publishers! All you need to do is take any crochet book in your native language and look in the index for your local publisher's contact details. Email them and tell them you would love for them to publish this book in your country too. That's all they need to know. Thank you for helping!