Meet the happy flower friends. They are out in nature, in a field or in your city park.
And you might not know it, but they are even in your garden and in your home in a vase.
Flower friends are fun to crochet and they bring a little happiness in your life.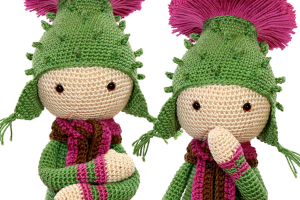 New pattern: Thistle Tim
Thistle Tim is a sweet and playful thistle flower. Tim might have scary looking thistles, but he never stung anybody. He is really friendly and just loves to make new friends. When the weather gets colder, Tim puts on his thick scarf to keep him nice and warm and he goes out to play with his friends. Read more…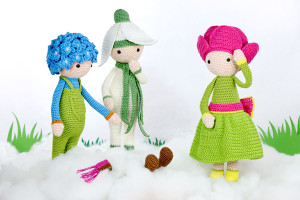 New doll coming soon!
It has been snowing for a few days and Snowdrop Sia, Peony Pam and Hydrangea Hank went out to play. All of a sudden they discovered a pair of feet sticking out of the snow. It must be a new doll! What flower do you think it will be? Join the conversation on the Zabbez Facebook. Subscribe Read more…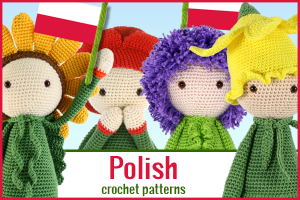 Polish crochet patterns
Welcome Poland! Zabbez is very proud to announce its Polish translations! All patterns are now available in Polish for download. It is a lot of work translating patterns and I have had a lot of help from very kind people. A very special thanks goes to translators Marta Jastrzębska and Karolina Pietrzak. They worked very hard to Read more…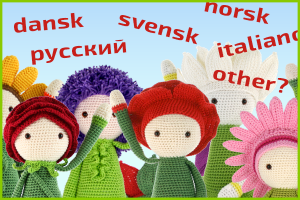 Volunteers to translate
Do you want to be part of Zabbez and translate the patterns? Zabbez is looking for you! All language translations are done by a team of very enthusiastic volunteers that wish to bring the Zabbez dolls to their country. If you are interested in translating the Zabbez patterns to your language, please contact me by sending an Read more…