- Butterfly Bree -
Butterfly Bree has one great love, her baby Caterpillar Calin. He is everything to her and together they are happy. With her majestic wings she flies from flower to flower. While she is flying, mama Bree is comforting Calin and rocking him gently singing a sweet lullaby. Caterpillar Calin is about to make the transition to become a beautiful butterfly just like his mother Bree. Mama will stay by Calin's side to help him in this important step to adulthood in a butterfly's life. True motherly love.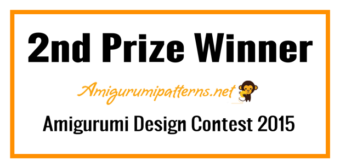 Butterfly Bree is a crochet pattern or amigurumi pattern. Bree will turn out about 18cm/7inches. You need a standard crochet hook size 2.5mm (US 1,5), tapestry needle, soft stuffing and eyes size 7mm. Five colors of yarn calling for 2,5 mm (US 1.5) crochet hook, like apricot, white, light blue, dark blue and green. You need to know how to make a single crochet, a slipstitch, increase and decrease, and a magic ring or loop. Bree is a lot of fun to make.
PATTERN LANGUAGE:
English, Dutch, German, French, Spanish, Italian, Danish, Hungarian, Polish and Russian.
- Where to buy -
Crochet patterns are available online in the Zabbez Etsy shop and Zabbez Ravelry shop.
Click on the logo to go directly to the shop of your choice.